The Perfectly Imperfect Beef Box (40% off Discount Box)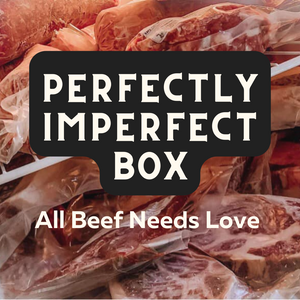 MTXBeef believe that all cuts need love!  Up to now, our perfect cuts have been the star of the show, but truth be told we receive a lot of imperfect cuts!  It's just impossible to have everything we harvest appear to be a pillar of perfections.

Does it still taste good?  ABSOLUTELY! 

So instead of the imperfect cuts taking up space in the freezers or ending up in my belly we decided to discount them to you so we can all share in showing the imperfect cuts a little love.

What is an imperfect cut?

Well it could be any of the following:

Broken seal on vacuum packaging
Mislabled cut
Odd in shape or size
Slightly older processing date
Special orders never paid for or picked up

It could be a variety of things but we do promise each cut you receive will be in a consumable condition.

Our goal with this is to extend savings to you, reduce potential waste and keep our freezers as clean as possible!

The Perfectly Imperfect box will arrive with a variety of meats picked out by us.  The mystery is half the fun!  This box is only available with MTXBeef delivery options or via our online shipping program. 

Each box will contain $100 retail value of meats but then discounted by 40%! 

We hope you love this option and will have it as a subscription option VERY SOON!

There will be weekly quantities available of this box based on availability.