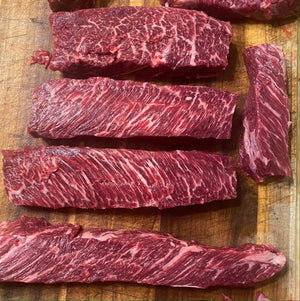 10 lbs of a steak cut you may have never heard of!!!  DENVER STEAK!

This box of deliciously marbled Denver Steaks is a perfect selection to stock up the freezer with one of the most underestimated cuts in the beef industry.

Denver Steaks are a petite cut that have an abundance of marbling to assure for a super tender and flavorful cut.  This affordable cut is perfect for an everyday steak or has enough wow factor to save for date night or to entertain a crowd. 

Our default cuts will be 1.5" thick and most Denver Steaks will come in packs of 2.