Chuck Eye Steak Box - "Ribeyes on a Budget" (SALE)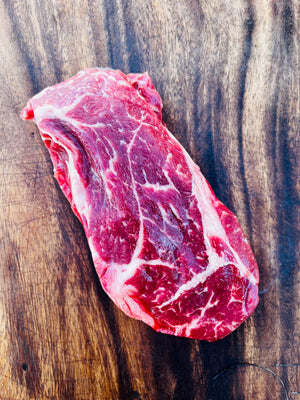 10 lbs of "Ribeyes on a Budget!"
Chuck Eye steaks are commonly mistaken for ribeye steaks because their flavor, taste and tenderness. 
This box will contain 10 lbs of marbled up Chuck Eye steaks delivered straight to your front door. 
Each Chuck Eye will be 1.5" thick and ready to hit that grill upon arrival!
 
All beef boxes will come UPS ground in an insulator box packed with dry ice to assure for the safe arrival.  Due to the increase in materials cost we have shared some of that cost with you in the shipping charges.  We only ship on Mondays and Tuesdays to add an extra layer of insurance and each shipment can take up to two weeks to arrive.  If you have urgency to receive your box please email mtxbeef@gmail.com and we will accommodate as best as we can.