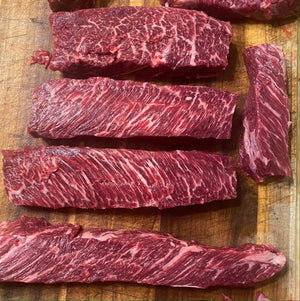 10 lbs of a steak cut you may have never heard of!!!  DENVER STEAK!

This box of deliciously marbled Denver Steaks is a perfect selection to stock up the freezer with one of the most underestimated cuts in the beef industry.

Denver Steaks are a petite cut that have an abundance of marbling to assure for a super tender and flavorful cut.  This affordable cut is perfect for an everyday steak or has enough wow factor to save for date night or to entertain a crowd. 

Our default cuts will be 1.5" thick and most Denver Steaks will come in packs of 2.  We do have whole muscle options which would be great when you want to cut your steaks to a specific size and serve a crowd. 

All Steak Cuts:  You'll receive 10 lbs of individual steak cuts.
or
Whole Piece with Cuts:  You'll receive one whole Denver muscle and the remainder to make up the 10lbs will be in steaks.  One whole muscle will average about 5 lbs.  So approximately half and half of marbled up goodness.

All beef boxes will come UPS ground in an insulator box packed with dry ice to assure for the safe arrival.  Due to the increase in materials cost we have shared some of that cost with you in the shipping charges.  We only ship on Mondays and Tuesdays to add an extra layer of insurance and each shipment can take up to two weeks to arrive.  If you have urgency to receive your box please email mtxbeef@gmail.com and we will accommodate as best as we can.